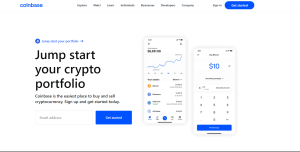 Coinbase & Coinbase Pro
Coinbase is an American crypto trading platform and investment platform. It is one of the largest exchanges in the world with many millions of users and a decent range of cryptocurrencies. The company Coinbase is also listed on the US stock exchange.
The exchange was founded in 2012 as a place where one could send or receive bitcoin (BTC). Since then, the exchange has grown tremendously and offers a huge range of features. For example, it has two versions of the Coinbase exchange and even its own wallet.
Free crypto with Coinbase Earn
The ability for consumers to earn cryptocurrency for free by signing up for a certain programme is one of Coinbase's distinctive features. Here, people can read about and watch informational content regarding various cryptocurrencies.
Users can better grasp the cryptocurrency industry by watching this information. Users are required to complete a relatively short quiz at the conclusion of each movies in order to receive free cryptocurrency in their wallets.
Coinbase wallet
Users can control their own cryptocurrency custody thanks to the Coinbase wallet. Coins that are kept in exchange storage are not in the user's actual possession at all. The exchange still has control over the wallet's private key, which symbolises ownership of the coins stored within.
Users do have access to their own private key through the Coinbase wallet. That simply means that using this wallet to store your cryptocurrency is far safer than using an exchange wallet to do so.
Recognising that the Coinbase wallet is genuinely distinct from the Coinbase or Coinbase Pro exchange is crucial. This cannot be compared to the Coinbase wallet.
Coinbase coins
Coinbase's offerings are quite extensive. Investors can choose from over 100 different cryptocurrencies. It is therefore not inferior to most major exchanges. In addition, new cryptocurrencies are added to the offer of the American crypto exchange almost weekly.
Coinbase listing
It makes headlines whenever a new cryptocurrency is poised to be included in Coinbase's selection. Listings on Coinbase have historically been quite beneficial for a lot of cryptocurrency ventures.
Of course, this is due to Coinbase's especially broad selection. Millions of investors will have the chance to invest in a new cryptocurrency for the first time thanks to a new listing.
The "Coinbase effect" refers to the price surge that a cryptocurrency experiences upon news of its listing on a reputable exchange.
Coinbase vs. Coinbase Pro
Users have the option of using Coinbase Pro or the basic Coinbase platform. Beginners and investors who are tired of straightforward buy and sell orders should use Coinbase more often. Because Coinbase Pro has more features, it is more suited for investors or traders with greater experience.
The user can invest using fiat currencies like the US dollar as well as the euro on both exchanges.
The Coinbase Pro interface is far more complex than the Coinbase interface. This is because Coinbase Pro employs sophisticated charting tools and provides trading pairs for cryptocurrencies. As a result, you can purchase bitcoin here using ethereum, for instance.
The only transactions supported on Coinbase are buy, sell, transmit, and receive. Traders with experience won't be happy with this. Therefore, users of Coinbase Pro can employ limit orders, stop losses, and time in force orders in addition to the aforementioned.
Simply put, the opportunities are much greater on Coinbase Pro. Despite what the name might suggest, using Coinbase Pro does not require you to be a seasoned trader. However, it will be more challenging for beginners to navigate Coinbase Pro. Coinbase is ideal for those who merely want to invest in cryptocurrency and do not care about patterns on charts or intricate indicators.
The lack of a mobile app for Coinbase Pro will be significant for some users. The decision for Coinbase is thus made simple for investors who only use a mobile phone to participate in the world of cryptocurrencies.
Trading fees on Coinbase & Coinbase Pro
The trading fees are a significant distinction between Coinbase and Coinbase Pro. Trading fees on Coinbase are well-known for being relatively expensive. This, however, primarily refers to Coinbase's basic version.
Trading fees on Coinbase Pro are much lower than on Coinbase. A set transaction fee of 0.50% is charged by Coinbase for each transaction. Additionally, there are even 4% on every credit card payment and 1.49% for bank or Coinbase wallet payments. Trading fees on Coinbase Pro are considerably lower. A transaction fee of 0% to 0.5% is applied here.
Coinbase shares
On April 14, 2021, Coinbase began trading on the Nasdaq stock exchange in the US. Since that time, investors from all over the world have had access to the Coinbase (COIN) stock. You can contribute to the success of one of the biggest exchanges in the world in this way.
Many conventional investors opt to invest in COIN in order to acquire indirect exposure to the cryptocurrency markets because of the strong correlation between the share price of Coinbase and the crypto markets.
Price of Coinbase shares
There was a lot of hype about the IPO, or IPO, of Coinbase. For that reason, the price of the COIN share on the first was gigantic. The market opened with a COIN price of over $400.
Since then, the hype has subsided somewhat and the extreme volatility has also subsided. The fact remains that COIN can fluctuate quite a bit in price. This is of course due to the correlation with the crypto markets which are inherently extremely volatile.
Coinbase vs. Binance
It is frequently used to compare Coinbase with Binance. They are two renowned exchanges that are both dominating the market. But there are some significant variations between the exchanges.
In terms of trading volume, Binance is by far the biggest exchange in the world, but it is not for everyone. Investors should be aware of these distinctions before selecting one of the two exchanges because of this.
In general, Binance is less suited for beginning investors. The range of features might be highly daunting for someone who is only there to observe, and the learning curve is steep.
The Coinbase Pro platform and the Binance platform are more comparable than the ordinary Coinbase platform. It is meant for seasoned traders and investors, it provides minimal assistance to newbies.
Of course, Binance offers a considerably wider selection of cryptocurrencies than Coinbase and Coinbase Pro. For those who use leverage in trading, it even provides the option of trading derivatives like futures.
Additionally, Binance has significantly reduced trading fees. Users only pay 0.015% to 0.10% per transaction on Binance. That is a great deal less expensive than the trading fees on Coinbase and Coinbase Pro. For traders, who occasionally conduct numerous trades each day, this is more significant than it is for investors.